Bultaco Rally – April 14 to 16 2023
The 22nd Club Bultaco rally will be held on 14-17 April 2023.
It will be open to all Spanish motorcycles, so dust off those Bultaco's, Ossa's, Montesa's, Gas Gas etc. and come along for a friendly, family oriented event at Russell Becket's 300 acre property on the Captains Flat Rd approximately 7 kilometers north of Captains Flat, NSW:
Address: –
3547 Captains Flat Road,
Captains Flat
NSW 2623
35°33'48.5″S 149°26'52.9″E
The property is 35. 47 kilometers from the beginning of the Captains flat road at the Kings highway turnoff close to Queanbeyan. The property is on the left side heading from Queanbeyan or Bungendore and about 50m from the old railway crossing on an S bend in the road. There will be Bultaco signs on the L/H side of the road as you head towards Captains Flat from Queanbeyan.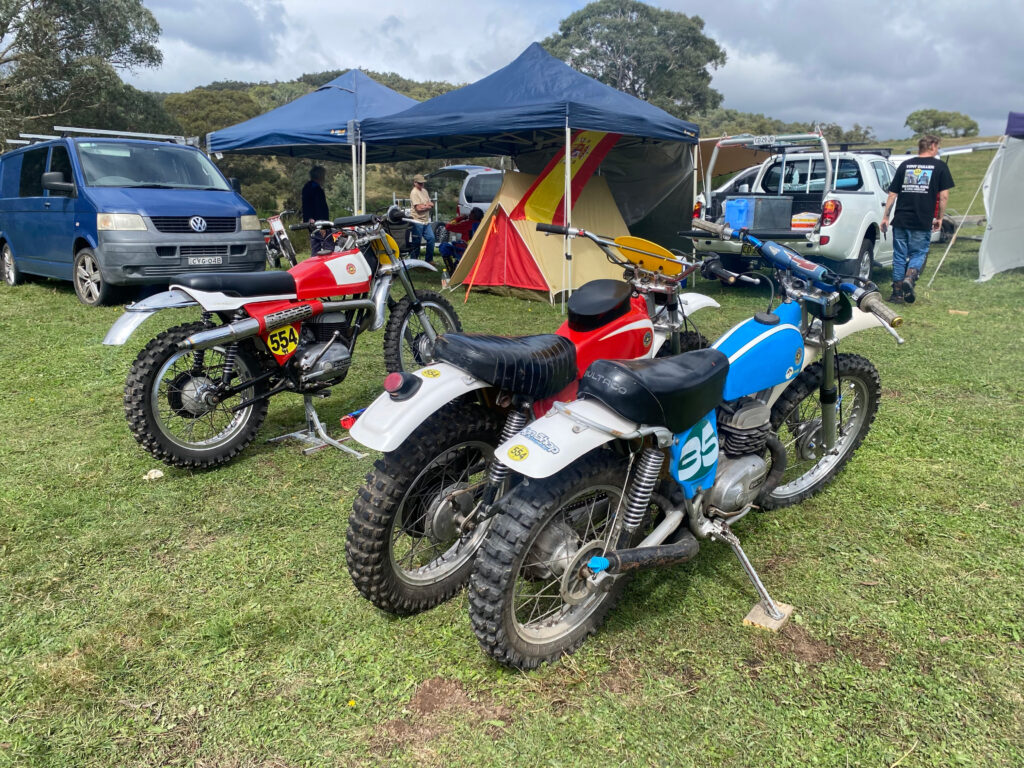 There will be a reduced riders fee of $40 for the weekend that will include riding, camping, toilet and trophies. Non riders and visitors can enter by donation.
The new rally site was well received last year with entrants arriving from the Friday and departing on Sunday to make a long weekend of it, however, stragglers are welcome to remain till Monday. Note that Captains Flat is a very small village so BYO everything including plenty of water. There is a bowling club in town that may be open for food and drink. Note that the newly refurbished Captains Flat hotel, (02) 62366069 is reopening on the 3rd of March and will have accommodation, drinks and meals available.
Entrants are reminded that they must abide by the Group's rules, particularly that they don't ride unregistered bikes on public roads and not bring the Club into disrepute. There will be plenty of camping sites, a portaloo and a working bee is planned for early in 2023 to build a shower at the camp site.
There is general trail riding, a single track enduro loop, a scrambles track and trials sections from novice to expert. At night, sit around the campfire and tell a few yarns washed down by your favorite brew with other Spanish motorcycle enthusiasts.
Tentative program (subject to change):
Sat 10 am – For registered bikes, there will be ride to Bungendore or Captains Flat for lunch at the pub.
Sat pm- trials event.
Sat 5pm – Drinks, swap meet and group photo with bikes.
Sun am – Drag race, Scrambles lap dash and Go-Woa event.
Proposed Trophys:
Trials/most balanced rider trophy.
Go trophy – awarded for combined drag race, scrambles lap dash and Go – Woa event.
Peoples choice – Best off-road bike trophy.
Peoples choice best road bike trophy.
Best bike on show trophy.
Runner up best bike on show trophy.
Best original unrestored bike trophy.
Furthest travelled medallion.
Oldest rider medallion.
For more information contact Steve Lawry on 0490 383 965 by email steve.lawry@outlook.com or John Somerville on (02) 6291 6446 or email johnsomerville50@gmail.com. RSVP by phone, email or Facebook
P.S Bring any unwanted parts or bikes.